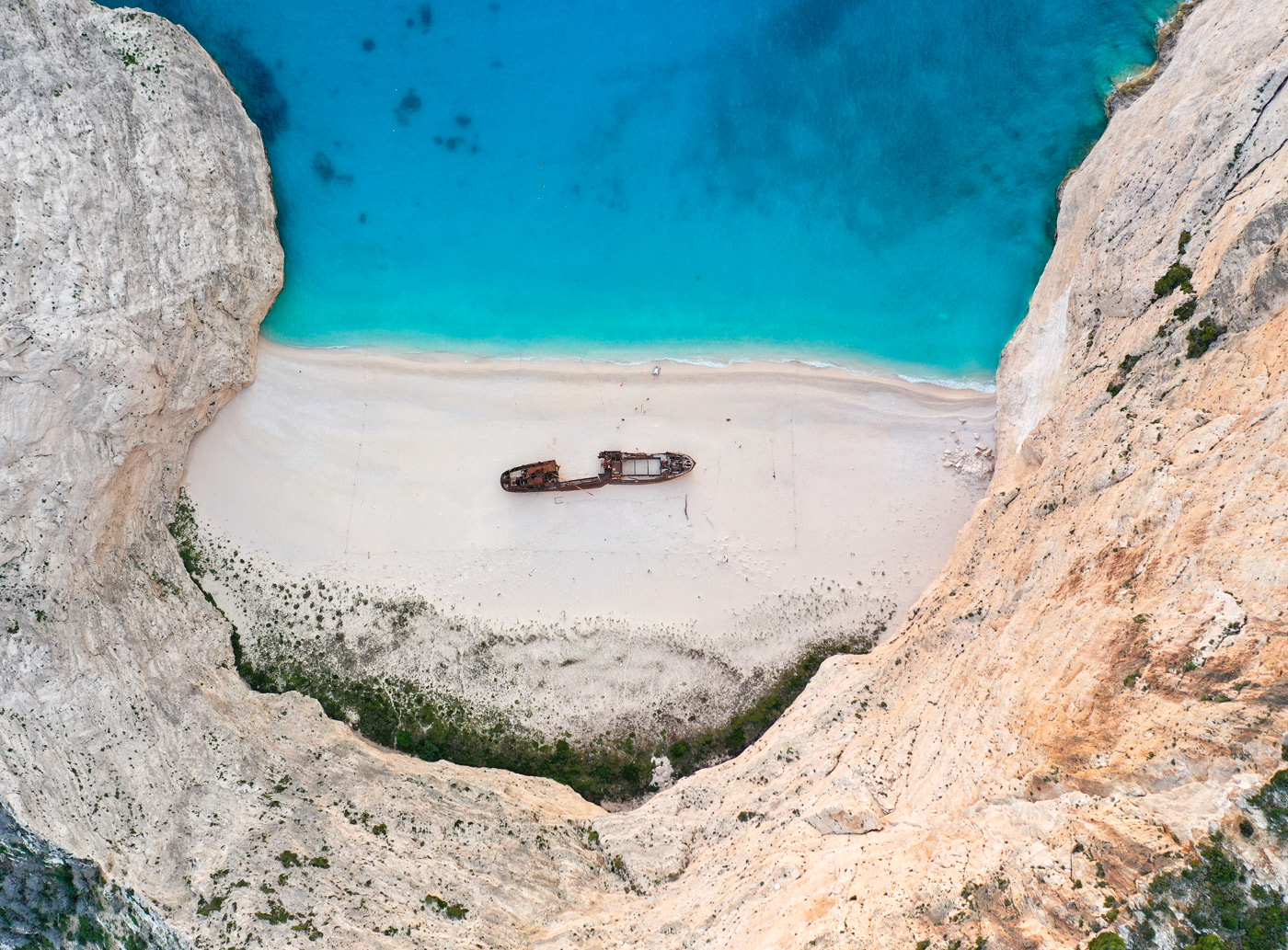 CAPTAIN VANGELIS SPECIAL CRUISES
You will have the opportunity to swim at the "ShipWreck" Beach. An impressive landscape, with crystal blue waters caressing this beautiful beach that embraces the semi covered remains of a ship. Visit Blue Caves, to enjoy the vivid colours of Zante coastline and lunch and swim at the port of Alykes.
Departure: 09:00
Shipwreck
Blue Caves
Alikanas
SWIMMING STOPS
Blue Caves - Alikanas
Return: 15:15
Adults 50€ / Children 30€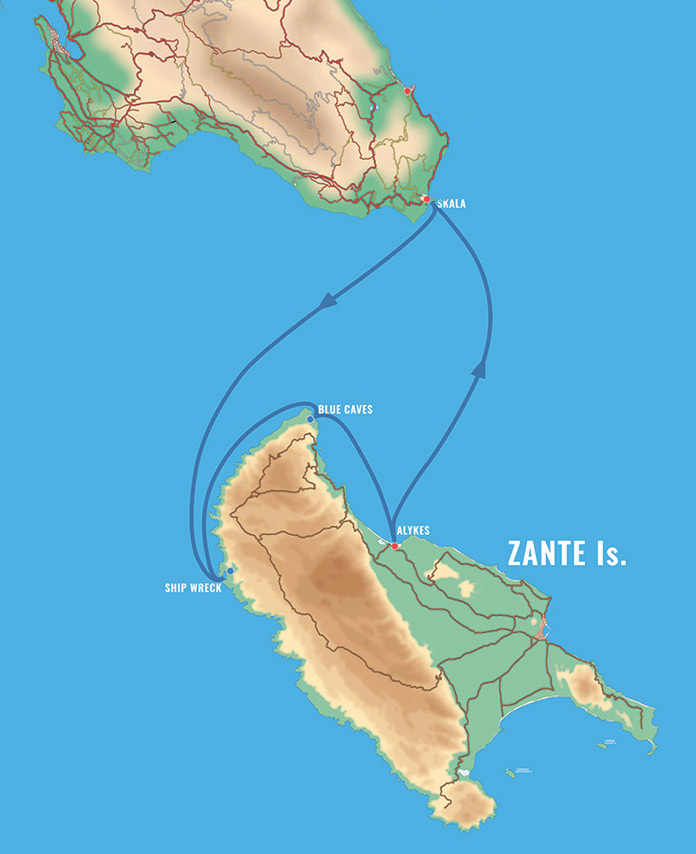 Zante is the 3 rd largest of the Ionian islands. It is an island with a rich cultural heritage. It is the island of Kalvos and Solomos, the island of Kadathes and Operettas. Also, it is one of the last reproductive grounds of the Caretta-Caretta sea turtle.
Our cruise starts from Skala at 9 am. In about 40 minutes we reach cape Skinari with the homonymous light house, visible from Kefalonia at night. This is the closest point with Kefalonia (katelios 8 nM distance). From cape Skinari until the famous shipwreck the coastline is rocky, steep, and truly impressive.
Important Notice - Read Carefully!
CAPTAIN VANGELIS REPORT FOR ZANTE CRUISE
Shipwreck beach is well known all over the world and year by year becomes more popular. I know that for some of you it is a dream to visit, to swim and to stay the longest time at this beach. I have done this cruise for more than 20 years and the only care I have is all the guests have a good time, enjoy the cruise and especially come back safe. I will try to describe informatively the data for this cruise. The first thing to note is that calm sea at Skala means calm sea for Ithaca and Fiskardo cruise, but not for Zante cruise. The currents and the swell of the open sea makes the boat roll differently than the surface waves do and this is what makes some passengers sensitive to seasickness and to become seasick. For so many years we have never had seasick guests on Ithaca or Fiskardo cruises but we have some on the cruise to Zante.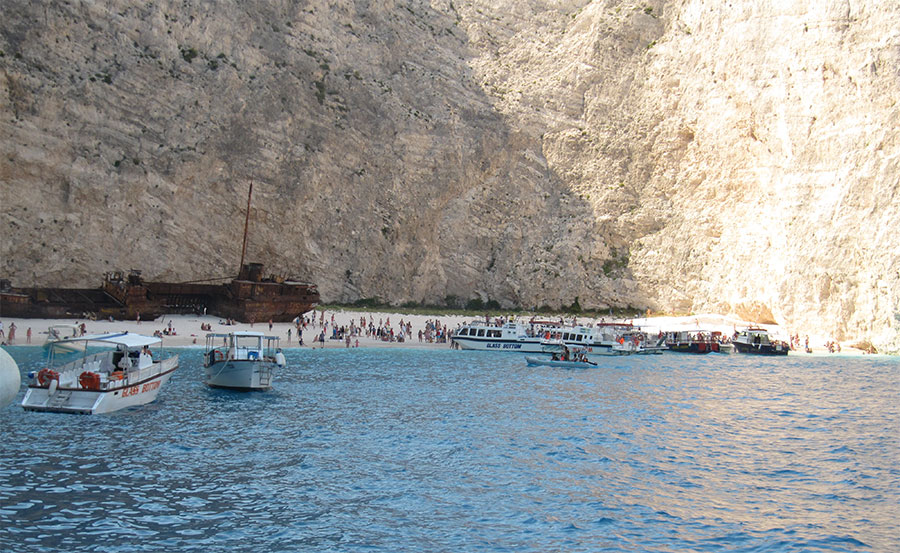 The ship wreck beach is at a bay facing the open Mediterranean Sea where the local currents and the swell sometimes don't allow us to land the boat, to disembark and to follow our schedule. That can happen even with good weather reports and we don't know it before arrival at the beach and see it visually. In this case the only thing we can do is to stay on the bay just getting photos for some minutes only and leaving before most of the passengers become seasick.
And now the usual question and complaint "why not stay longer "when the sea is calm? The situation at shipwreck beach is best described using Photographs, the first two above. We depart the beach at 1045 hrs. before the big boats arrive. There are 7 big boats each with capacity up to 500 passengers arriving at the beach from 1045 till 1130hrs. The ship wreck beach is a beach about 150meters long. Where to stay and where to swim with 7 big boats there, about 20 smaller professional boats going and coming all the time and a lot of small and big private yachts?.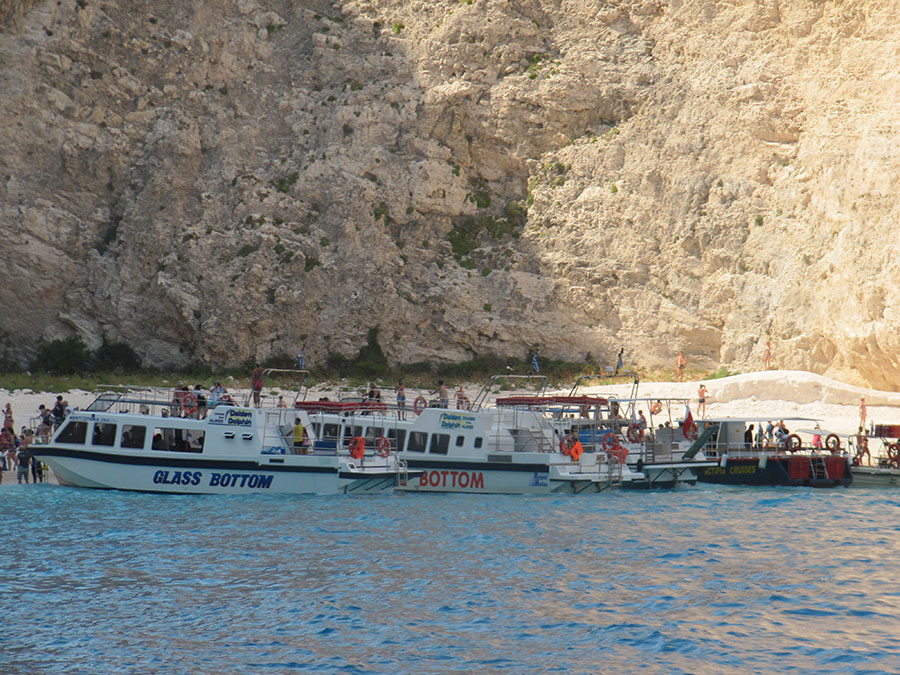 I am sorry to say that things and safety standards year by year are getting worse. Nothing is more important to me than your safety. That is why I am in a hurry to depart before the big traffic starts. There are some boats from Zante town departing from the beach at 1000 hrs. when we arrive there. Our next stops are 30 min next to the blue caves for swimming and 2 hrs. for swimming and lunch at Alykes. We should stay longer but we look for the balance. The guests diving and swimming (usually less than 40% of the total) who want to stay longer the time passes very fast for them but for the non-swimmers the time passes slowly and they feel bored just looking. We have another reason to leave Zante no later than 1400 hrs. the time where almost every afternoon the channel between Kefalonia and Zante will become rough. We have done this cruise so many years now, we know the problems and we try for the best.
NIRIIS is a very suitable boat for this difficult cruise. It is fast, which means less time rolling and more stability. Especially because of Zante cruise we equipped NIRIIS, with stabilizers making it a more comfortable cruise. But still when we see children we advise the parents to choose another cruise, the same for the expectant mothers. We always guarantee that you will come back safe, but we don't guarantee that we will stop for swimming at the ship wreck beach or that you will not get seasick. Now you know everything about this cruise. The choice is yours.
Sincerely yours
Cpt Vangelis
Ship Wreck
At about 10:00 am we reach the famous shipwreck. It is known worldwide and is almost synonymous with Zante. An impressive landscape, with crystal blue waters caressing this beautiful beach that embraces the semi covered remains of a ship and behind it a breathtaking escarpment, complete this magic scene. This beautiful beach maybe would have remained anonymous and unknown since there is no road to it, if during 1983, an abandoned smuggling merchant ship had not washed ashore.
The ship was full of illegal cigarettes and traveling from Bulgaria to Italy and was abandoned by its crew, which got away on a small speedboat that was aboard, to avoid being arrested by the authorities. The unmanned smuggling ship was drifted and washed out on this beach. Year after year the tide would bury it in the sand and the beach became known, advertised, and today is globally known and is the biggest sight on the island. Thousands of tourists visit it daily. For safety reasons disembarkation and swimming is not permitted anymore. But it is still very nice and may be better to have clear view and photos of this beach without the beach being full of thousands of people.
We will stay at the bay on a distance of about 40-50 meters for view and photos. We will set off around 10:30 for the blue caves and we will arrive in about 20 minutes.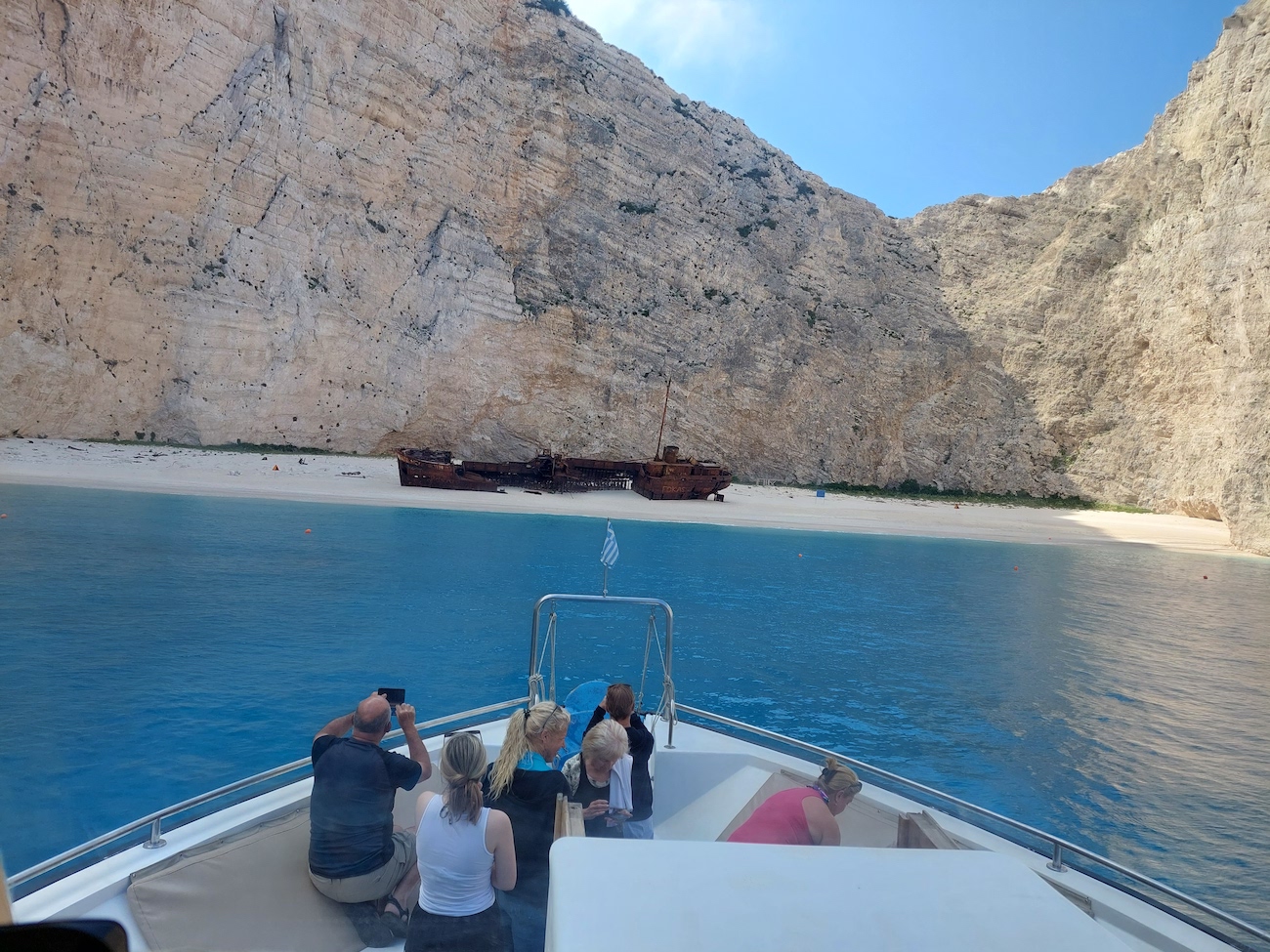 The Ruins of St Andreas Monastery
About half way there you can see a castled wall. About 1100 years ago St. Andrews monastery was built there and the only thing remaining is this castled wall that protected it from the pirates. Just down the way, a strange cave with stalactites. The depth is about 70m. Large waves, especially during winter occur in this area and very often we can see seals and sea-lions and also near the light house.
Blue Caves
These caves were carved by the wild waves within the centuries that whip the irregular coastlines. They get their color from the underwater seabed. The biggest cave has a length of 35m. Thousands of tourists visit it daily with small or large ships; yachts all drop by to admire this scenery.
Leaving the blue caves, in 15min we will stop for swimming as Platys Gialos Bay, for about 30 minutes. Crystal blue waters invite you to dive in and enjoy!
Alykes
Our next stop is Alykes. A small picturesque village with a sandy beach, water sports and restaurants for whoever wants to eat. We will stay here for about 2 hours.
Please be on time on the boat for the departure.
The west coast of Zante is facing the open Mediterranean sea. Due to this sometimes we have unexpected swell and rough sea. The cruise to Zante is an exciting one, but we advise for people sensitive to seasickness, for children, old or disabled persons and pregnants it is better to choose another cruise.
We will be back in Skala around 15:15