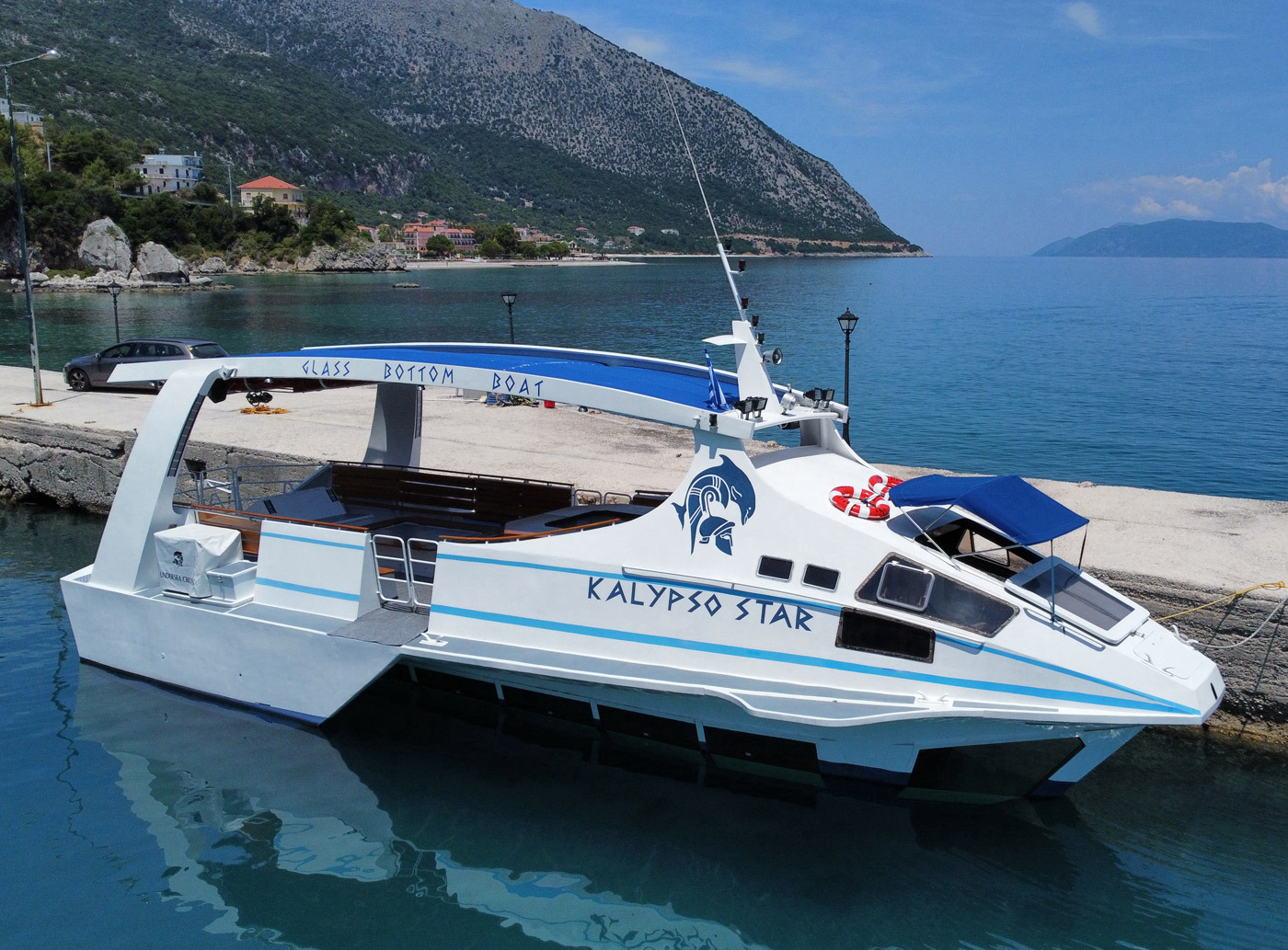 CAPTAIN VANGELIS SPECIAL CRUISES
I Captain Vangelis started glass bottomed cruises over the Kakava reefs in 2000. One year later I had heard about a very special and unique semisubmarine at Corfu. In July 2021 I visited Corfu to see this boat. The experience was impressive. Her name was KALYPSO STAR. It was really special and unique, it was exactly what I should like to have for Skala but it was exremelly expensive to oder a new one.This boat has her own history at Corfu. Today I am proud because it is the new member of our family. Let me introduce her.
Kalypso star is a specially manufactured ,trimaran cruise ship, with large undersea side windows in her central hall that offer a panoramic view. She is built in France ,from aluminum untouched by the sea salt and time and with unbreakable glasses. It is not new , but it is like new. She is guarantee maximum safety , maximum stability and low engine noise as she is a trimaran and her engines are separate from the central hall.
We invite you on a 60 min, cruise to discover the kakava reefs, where the locals believe that there is a sunken village, probably the one refered by Homer and called dulihion, to admire the amforas dated from about 300 B.C. ,to see the anchors ,cargo of a sunken boat, to see turtles CARETTA-CARETTA and the plethora of marine organisms that live in the area.
KALYPSO STAR has her own name, she will keep it and she will make her own story in SKALA. KALYPSO STAR is not one boat, she is two boats. The first one with the large undersea side windows enough for 49 passengers to sit and see the marine life, and the second one is a boat with a large main deck also enough for 49 passengers, to sit there, to enjoy the sunset, to enjoy a drink and more, but specially.
NOW ON THIS BOAT YOU CAN MAKE YOUR KEFALONIAN WEDDING EVEN MORE SPECIAL. Let us sweep you away on a private cruise planned to suit the needs of your wedding party. Yes, KALYPSO STAR is a special boat for special private events.
She is my new love.
Cpt Vangelis