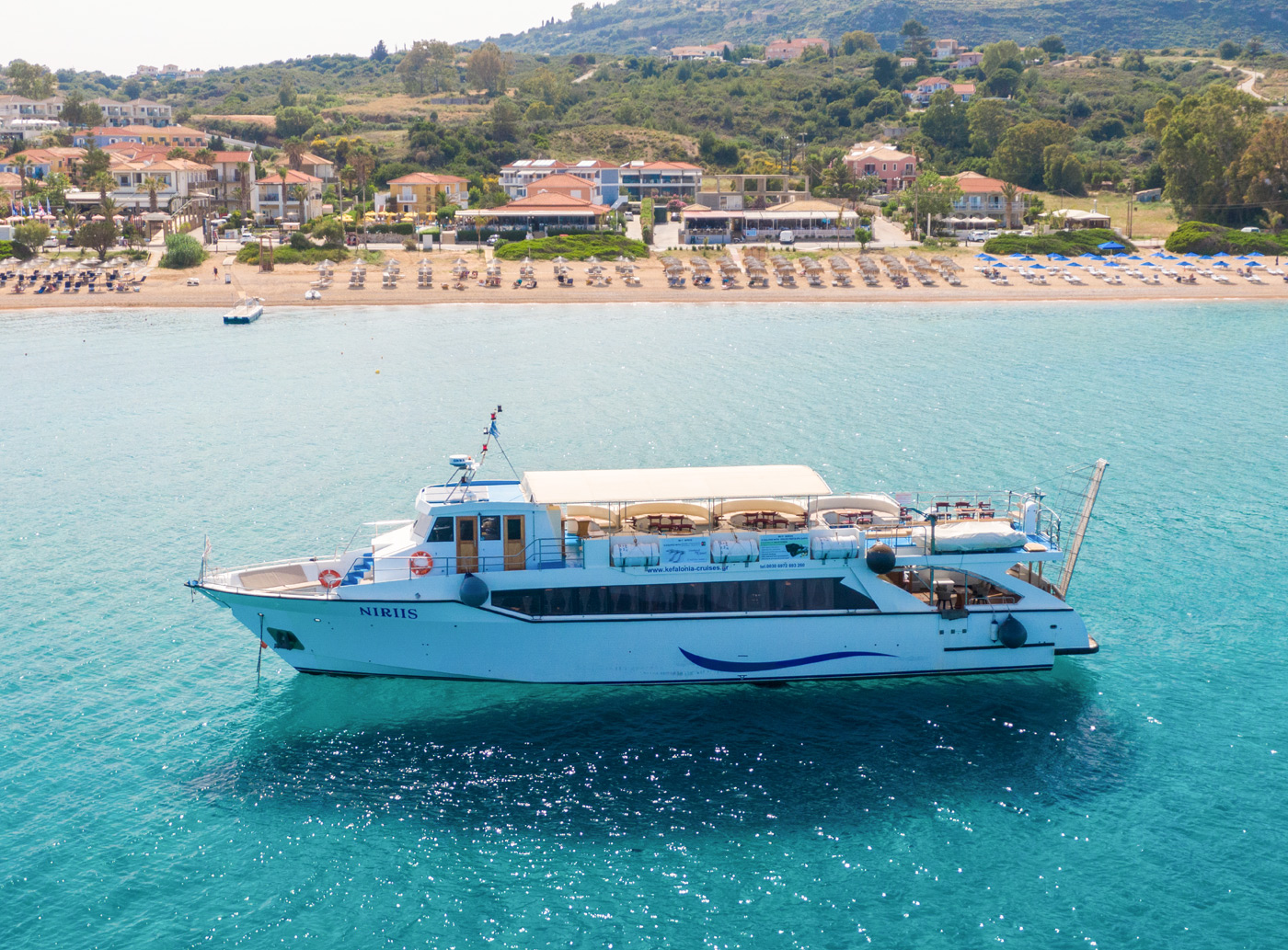 CAPTAIN VANGELIS SPECIAL CRUISES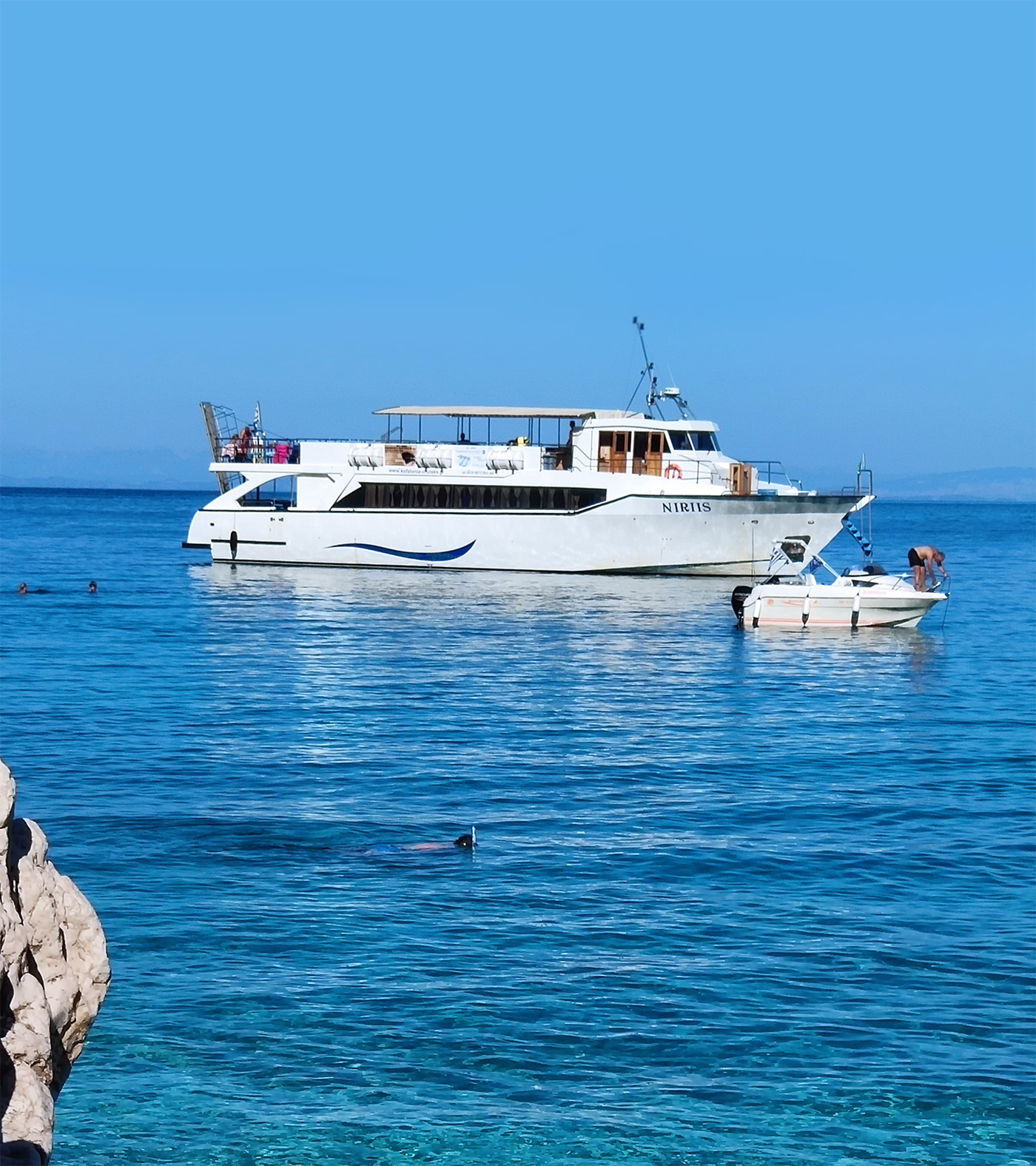 BOAT DETAILS
Lenght: 27,80m
Eng: 2 x 900 hp
Capacity: 200 pers.
Max. Speed: 21 knots
Cru. Spedd: 16 knots
EQUIPPED WITH
Two very modern low noise VOLVO PENDA IPS engine
She is equipped with stabilizers that can reduce the rolling by up to 70%, also is equipped with foul water treatment plant for clean seas, and two x 24000 BTU marine air conditioning units for the salon
She is fitted with bow thruster and has 4 toilets and a BAR
MYTHOS is my loved boat , but "NIRIIS " is the boat I felt in love with her from the first trip. She is the boat I built in my mind year by year, then she became a dream and now I am very happy to say that this dream came through. I didn't expect nothing more , nothing better!
We have done daily cruises since 1987 and this is our 6th boat. I used my experience and knowledge of what our customers like, I have dreamed of and have designed and built NIRIIS to reflect this. I gave great care to the details , making this yacht safe luxurious and comfortable. The main sallon is very luxurious. Big glasses around , they give you the sense feeling the sea very close to you. The seats on the main salon and on the upper deck have halfmoon arrangement so the passengers can seat company by company ,family by family with a table infront of them like in yachts. Four luxurious toilets, two on each deck and two bars are available at your service. Diving platform and water slide make the swimming stops very enjoyable.
Referring the safety we are on the higher stage using auto released inflatable life rafts , as the ocean going ships. I took the risk to use two very modern VOLVO PENDA IPS engines 900 hp each one having 2 propellers. These engines are making the difference as they are much more quitter than conventional shaft drives. Now you can enjoy the noise of the sea rather than the noise of the engines. NIRIIS is also equipped with stabilisers that can reduce rolling up to 70%, she is also fitted with two 24000 BTU marine air-conditioning units , a bow thruster and foul water treatment plant. Yes! NIRIIS is a boat coming from the future, she built for you, for Skala, for Kefalonia and also for me. By finishing the season I want to thank you all those (almost 15.000 passengers )who sailed with us this summer.I am very glad because you enjoyed our cruises you loved this boat, many of you came 3 or even 4 times on our cruises and the most of you said that this was the best day of your holidays. I want thank you also my crew who gave soul to this boat. Now both waiting for the next summer.
FAREWELL MYTHOS
Difficult night tonight trying to sleep! Difficult time at 0600 hrs when MYTHOS left Poros and said good bye to Kefalonia and to all of you! Difficult moment at 1300 hrs when last touching between us at Korinthos and we said good bye to each other. But the most difficult time for me was about an hr later when I was on the train from Korinthos to Athens and looking to the sea I saw Mythos sailing to Mykonos. Both , me and she were going about the same direction, eastward, but on different ways, the one far away from the other.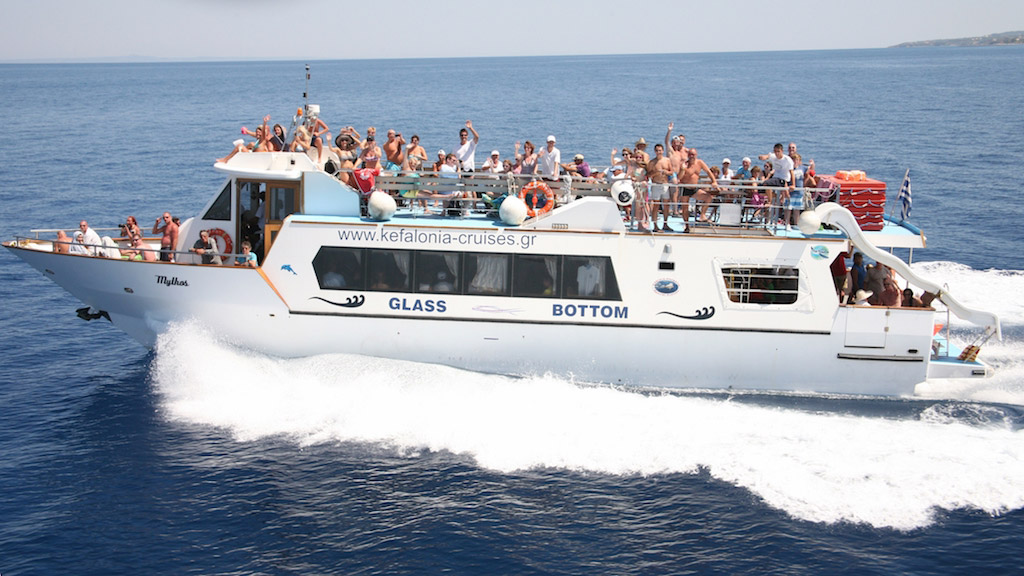 Then a lot of thinkings - a lot of memories – a lot of feelings came to me. I stopped at a comment written on the on board comment's book by a lady 2 years ago ,"THIS BOAT HAS A SOUL". Yes MYTHOS had a soul, but she had no voice. I am sure that if she had, then she should say today a big thank you to about 90000 passengers passing from 2009 till 2016, also a big thank you to all the friends she made all these years, thank you to all of you feeling sad today an her good bye. Also she should say that she is proud for the memories she offered to you and she is feeling the same sad as you feel. I was looking to her sailing. As usually she was beautiful, strong, proud , ready to make new friends and to offer good memories again.
I tried but I didn't managed to keep my self cool. GOODBYE MYTHOS. You are not anymore my boat but you will always be my loved boat. You made my cruises SPECIAL. GOOD LUCK!
Cpt Vangelis